Samosas are a popular Indian snack enjoyed all over the world. Making samosas and other similar products like dumpling, ravioli and empanada by hand can be a tedious and time-consuming process, which is why samosa making machines are gaining popularity.
If you're looking to invest in a samosa making machine, you need to know which manufacturers are the best in the business. In this article, I will be discussing the top 8 samosa making machine manufacturers worldwide.

1. ANKO
Location: No.351, Sec. 1, Zhongzheng Rd., Sanxia Dist., New Taipei City 237, Taiwan, China
Company Type: Manufacturer
Year Founded: 1978
Main Products:
●Multipurpose filling and forming machine, automatic encrusting and forming machine, automatic cutting and rounding machine, burrito forming machine, spring roll production line, samosa pastry sheet machine, tortilla production line, empanada making machine.
About the Company:
ANKO is a leading food production solution provider based in Taiwan since 1978. They help their customers succeed in their food businesses by offering them turnkey planning and diverse production lines. They also create new market opportunities with their passion for delicious food.
The company specializes in making various kinds of dim sum, such as dumplings, shumai, spring rolls, wontons, pot stickers, xiaolongbao, shrimp dumplings, scallion pancakes, tangyuan, baozi, and mantou. Their products can make foods with different shapes, sizes and fillings to suit your preferences. Whether you want them pinched, pleated, or with a handmade look, Anko can make them for you.
About the Anko Samosa Making Machine:
ANKO produces 3 models of multipurpose filling and forming machine. Two of them are single-line machine and the other one is double-line. With various easy-to-change forming mold sets, these machines are applicable to producing apple pie, cannelloni, samosa, dumpling, empanada and so on.
The capacity of single-line machine is 12,000 pieces (when producing dumplings at 25g per piece), capacity of double-line machine, 60,000 pieces/hr.

2. Taibo Machine
Location: Zhujie Factory Area, Zhucheng City, Shandong Province, China
Company Type: Manufacturer
Year Founded: 2013
Main Products:
●Volumetric dough divider, conical dough rounder, dough rounder machine, spiral dough mixer, dough processing equipment, dough ball production equipment.
About the Company:
Founded in 2013, Taibo has become the leading manufacturer of food processing machines. Their equipment covers vegetable and fruit processing, meat processing, dough processing, samosa processing and nuts processing.
Taibo Machine is based in Shandong province, which has a excellent location that offers convenient shipment both domestically and internationally. The company is dedicated in innovating new technology and new equipment to cater to market requirements.
With their own manufacturing factory, innovative engineers and experienced technicians, they create and develop practical solutions for their customers.
Taibo Machine's commitment to building a professional and dedicated team ensures that they bring convenience and food safety to every food processing industry in the world.
About the Taibo Samosa Making Machine:
Taibo samosa making machine produces various types of dumplings, including meat-filled, mixed meat and vegetable, and vegetable-filled dumplings. With the use of interchangeable molds, this machine can also make other popular food items such as spring rolls, wontons, empanadas, gyoza and ravioli.
The finished products can be cooked using various methods such as boiling, steaming, frying, or freezing. This machine has several noteworthy features that make it an excellent choice for home or commercial use. It is adaptable and can accommodate 100% meat, 100% vegetable, or mixed meat and vegetable fillings, even sweet fillings.
The thickness of the dough and the amount of filling can be adjusted freely, allowing for greater customization.

3. Eddiol Food Processing Equipment
Location: Rua jacinto jose de andrade, 8900-313 Vila Real Santo António – Portugal
Company Type: Manufacturer
Year Founded: 2015
Main Products:
●Samosa making machines
About the Company:
Eddiol is a company that specializes in making samosas making machines. They started their journey 20 years ago with a dream of creating a fast and efficient machine that can fold samosas automatically.
The company combines their expertise in automation technology and fine pastry making to produce high-quality and productive machines. Besides, they have a strong mechanical component that integrates seamlessly with their samosas automated-folding machine.
Edgard, master at Eddiol, has a unique skill in making delicious samosas and automating the folding process. He has established a tradition of excellence and innovation in the company.
About the EDDIOL Samosas Making Machine:
Apparently, the machine produced by EDDIOL look greatly different from others. The biggest feature is that these are programmable samosa making machines, which enables fully automatic production cycle. Thus these dumpling making machines are suited to the needs of all business in the food production industry.
The rate of production is 250 units/hour, 400 units/hour, and 600 units/hour. All of them come with one year warranty.

4. Hundred Machinery
Location: No. 136, Sec. 1, Min' an Rd., Rende Dist,. Tainan City 717, Taiwan, China
Company Type: Manufacturer
Year Founded: 1996
Main Products:
●Auto encrusting machine, dumpling maker machine, steam bun maker, machinery for production line, auto spring roll making machine.
About the Company:
Hundred Machinery Co., Ltd. is a company that makes automatic encrusting machines. The company started in 1996 in Taiwan and learned from Rheon, the pioneer of encrusting machine brand. They also import used machines from Japan and renovate them to sell with warranty and after-sale services.
With years of experience in repairing and upgrading machines, they are capable of meeting their clients' needs. New machines they developed can produce various kinds of stuffed food, such as pineapple cakes, moon cakes, glutinous rice balls, fish balls, meat balls, crystal dumplings, Ang Ku Kueh, mochi, Coxinha, Scotch eggs, croquettes and more. The company also makes dumpling machines, meat bun machines and pastry sheet making machines for different types of food products.
About the Hundred Machinery Samosa Making Machine:
Hundred Machinery produces various types of samosa making machines, including dumpling forming machine, desktop dumpling machines, multipurpose dumpling stuffing machine, automatic soup dumpling production line and automatic double line shumai forming machine.
The greatest advantage of their samosa machine is producing high quality dumpling wrappers. The machine rolls the dough into sheet without extruding by screws, thus maintaining the quality and elasticity of the dough.
These machines are able to produce ravioli, agnolotti and maultaschen with ssquare molds and make pierogi, pelmeni and uszka with circular molds.

5. Synergy Technics
Location: Shed No 33,34, Mahadev Industrial Estate Part 5, Ramol Road, C. T. M., Ramol Road, Ahmedabad – 382449, Gujarat, India
Company Type: Exporter, Manufacturer
Year Founded: 2014
Main Products:
●Chapati making machines, samosa making machines, roti making machine, tortilla making machine, khakhra making machines, panipuri, farsipuri sakkarpara making machines, dough ball making machines, cooking equipment, packaging equipment.
About the Company:
Synergy Technics is a reputable manufacturing company that specializes in producing and supplying a broad range of food processing machinery.
Synergy Technics has established itself as a leading player in the food processing industry, thanks to its commitment to quality, innovation, and customer satisfaction. The company's machinery is highly acclaimed for its easy installation, compact design, fine finish, high strength, and dimensional accuracy.
The company is equipped with a modern infrastructure that comprises manufacturing units, an R&D unit, and a quality control unit. These units are managed by a team of highly qualified professionals who are well-versed in their respective fields.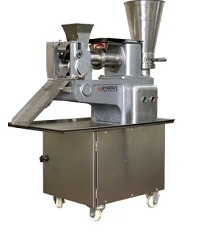 About the Synergy Technics Samosa Making Machine:
This machine produces samosas of 30g to 40g. The capacity is 4000 pieces per hour. It features adjustable thickness, low maintenance cost and easy installation.
The company also provides custom-built version of machines.


6. Blaze Food Machinery Pvt Ltd.
Location: 212 , Veena Dalwai industrial estate , S.V. Road, Ajit Glass Area, Jogeshwari (West), Mumbai-400102. Maharashtra. INDIA
Company Type: Manufacturer, Exporter, Supplier
Year Founded: 1985
Main Products:
●Dough kneader, dough mixer, dough sheeter, samosa making machine, chips making plant, commercial food steamer, cooker, boiler, vegetable cutting slicing machine.
About the Company:
Blaze Machinery is a company that makes food processing machinery. It boasts a global clientele that trusts their quality and service. The company's goal is to serve their existing customers well and reach new markets. The main source of their orders is repeat customers or referrals, which shows their reputation in the industry. Nowadays, they have made more than 35 types of machines and are planning to add more.
Different teams of the company ensure the best raw material, quality-check, and packaging for their machines. They'd like their customers to have a smooth buying process and a satisfying experience.
About the Blaze Samosa Making Machine:
In terms of samosa production, Blaze Machinery is capable of supplying potato peeler machine, potato boiler machine, samosa dough mixer, samosa dough sheeter and samosa fryer.
To manufacture the precise and perfect Samosa, the potatoes and dough go through a series of processes. From peeling, slicing, drying to frying, a lengthy process, Blaze Machinery has all samosa making machines usable.
The company can customize the final product, using some modifications in the machines.

7. Sunrise Industries
Location: Dwarka More metro staion, Nangli Sakarawati Industrial Area , Dwarka More, UTTAM NAGAR, New Delhi – 110043, Delhi, India
Company Type: Manufacturer, Wholesaler, Trader, Retailer
Year Founded: 2008
Main Products:
●Pani puri maker, momos making machine, roti maker, samosa making machine, mathi making machine, samosa patti making machine, peda making machine, dough ball machine, dough balls cutting machine.
About the Company:
Sunrise industries is a company that makes various food appliances. These products are of high quality and fast performance. They are compact in design and easy to use, made with the best technology and techniques to meet the market standards. The machines come in different designs, specifications and features.
The company has a modern and spacious infrastructure unit that has advanced machines and equipment. Their infrastructure is divided into several departments for production, quality control and delivery. Each department is managed by the experienced and qualified staff who ensure the quality and perfection of products.
About the Sunrise Industries Samosa Making Machine:
Machines provided by this company is more like dumpling wrapper maker and empanada making machine. Fed the dough into the hopper and at the outlet you'll get raw samosa wrappers.
These machines feature oil-free and hygienic operation. Machines are equipped with a set of TEFLON coated roll with thickness setting arrangement, flour sprinkling arrangement, one number dies roll, and endless PVC food grade (depend on the model).
The output depends on the diameter of samosa dumpling wrappers.

8. SGK Industries
Location: Plot No.111, Phase 5, I. D. A, Jeedimetla IDA, Hyderabad – 500055, Telangana, India
Company Type: Exporter, Manufacturer
Year Founded: 2007
Main Products:
●Automatic samosa making machine, food processing equipment, sugarcane juice extractor machine, pani puri filling machine, coconut water dispenser.
About the Company:
SGK Industries is a company that makes food carts and food processing machines. Since their foundation, they have been providing quality products that meet the market trends and customer expectations. Their products are affordable and comply with international standards.
They have a modern infrastructure that has different units for manufacturing, warehousing and quality control. Their products are used by various industries like oil refineries and food and beverage industries for their durability, accuracy and precision engineering. They use the latest technologies to deliver their products on time and in large quantities. They have a global presence in markets such as Indian Subcontinent, Caribbean, South/West Africa, East/Middle Africa, East Asia, Middle East and North America.
About the SGK Samosa Making Machine:
This commercial samosa making machine features high versatility. It folds, crimps, trims, seals and produces up to 2,000 samosas per hour. Anybody can  operate this machine, regardless of training or skills.


Conclusion
Investing in a samosa making machine can save you a lot of time and effort while making delicious samosas. The manufacturers I've discussed in this article are some of the best in the business, with years of experience and a wide range of products to suit your needs.
Be sure to do your research and choose the one that's best for you. I hope this article has helped you make an informed decision. Happy snacking!
If you'd like to know more about food processing machines, please click to read.
●8 Factors Help You Choose Quality Food Washing Equipment
●List of Global Food and Food Processing Exhibitions 2023
●From Fresh to Dried: Exploring the Different Types of Fruit Processing Lines